Information about Volvo Trucks
BAS World's stock is big. It consists of a diverse collection of Volvo trucks. Including the most popular models such as the Volvo FH16 and FMX. Our team of experts thoroughly inspect each Volvo truck before anyone can buy it on basworld.com. Want to know all the ins and outs about our Volvo trucks? Then read on below.
Superstructures on Volvo Trucks
At basworld.com, you will find many options when it comes to the chassis and body of a Volvo truck. The possibilities are endless, as long as you know what purposes the truck will be used for. Are you planning to dump and transport heavy materials? Then a Volvo tipper truck will definitely suit you the best. Are you planning to lift cargo in and out of the truck? Then opt for a Volvo crane truck. Other options at Volvo are: platform trucks, swap bodies, box trucks, refrigerated trucks or container systems.

Volvo Tippers
Do you want to load and unload on a construction site? It's quite easy with Volvo tippers. Tippers are in fact equipped with a hydraulic system that allows the bucket to dump. All Volvo tipper trucks feature with a PTO (power take off), which gives the hydraulic systems the power to dump the heavy loads. A special way to tip the load is by doing it in three ways. With the Volvo 3-way tipper trucks, that is possible.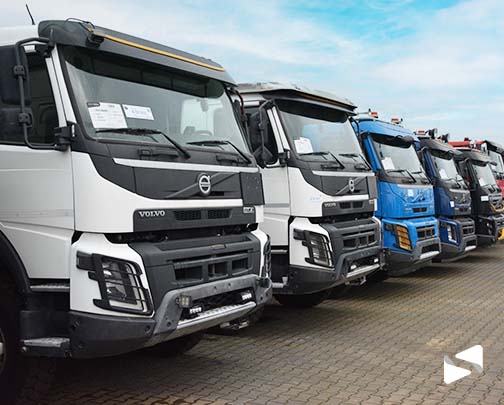 Volvo models
BAS World's stock is very diverse. Besides bodies, we also offer Volvo trucks in different models. Each is suited to a different situation. The most popular Volvo models are:
Volvo FMX
Introduced by Volvo in 2010, the FMX stands for Forward control Medium Xtreme. With this model, nearly anything is possible. Distribution, long and short distances or construction work, you name it. The Volvo FMX is often used for construction work. Mainly because the FMX truck is made of hard parts.
Volvo FM
In 1998, the Volvo FM was launched with a number of variants. At the time, these versions were called FM7 and FM10, among others. This was due to the truck's engine power. Since 2005, Volvo no longer uses numbers after the FM to indicate engine power. Today, the Volvo FM is an all-round truck but is mainly used for distribution.
Volvo FH
Volvo FH stands for Forward control High entry. The name says it all, this truck has a high entrance. Introduced by Volvo in 1993, this model is one of the most successful trucks worldwide. The Volvo FH is used for (international) transport and exceptional transport. The high entry and comfortable cabin make performing these operations much easier.
Volvo FE
The Volvo FE is a light-duty truck from Volvo that is primarily designed for distribution and light construction transport. It is a type that sits between the Volvo FL and Volvo FM. It is stronger than the FL but less than the FM. The FE was introduced in 2006 and is also available as a hybrid truck, allowing it to be more fuel efficient when driving in cities.
Volvo FL
Need a truck for fast distribution? Volvo has the perfect model for short-distance goods. The Volvo FL is Volvo's smallest truck and fits on every road and in every street. In 1985 Volvo introduced the FL, which stands for 'Forward-control' and for 'Low-level Cab'. The most common body types for a FL are refrigerated trucks and box trucks.