Information about Scania Trucks
BAS World's stock is huge. It includes, for instance, a varied collection of Scania trucks. Including the most popular models such as the Scania P-series and the R-series. Our team of experts thoroughly inspect each Scania truck before one can buy it on basworld.com. Want to know all the ins and outs about our Scania trucks? Then read on below.
Superstructures on Scania Trucks
At basworld.com, you will find many options when it comes to the chassis and body of a Scania truck. The possibilities are nearly endless. As long as you know what purposes the truck will be used for. Are you planning to transport heavy containers? Then a Scania Container truck will definitely suit you. Do you want to lift cargo in and out of the truck? Choose a Scania crane truck then, it is the best choice. Other options of Scania are: BDF systems, concrete mixers, box trucks, flatbed trucks, box trucks or tippers.

Scania Container Truck
A truck with a container system allows you to load and unload containers easily. There are several ways/systems to do that. For instance, you have a chain system, hook-lift system, skip loader system and cable system. At basworld.com, you will find many container trucks from Scania. These are mainly available in the Scania R and P models.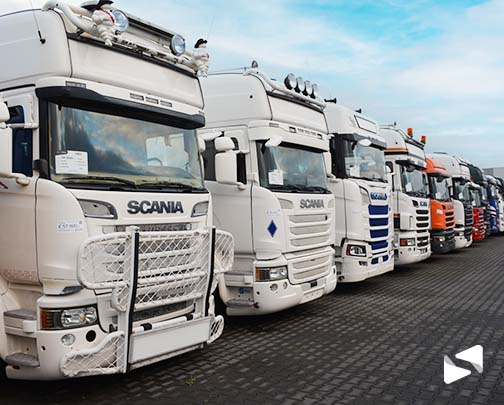 Scania V8 and models
BAS World's stock is very diverse. Besides bodies, we also offer Scania trucks in different models. Each is suited to a different situation. The most popular Scania models are:
Scania R
The Scania R is a truck suitable for transport and long distances. In fact, this model has a powerful engine, making the truck useful for multiple purposes. Examples you can equip the Scania R with are: a tipper, closed box, with container system or BDF system. There are plenty of possibilities.
Scania P
Looking for a truck for city and regional transport? That's not a problem with the Scania P model. Scania has optimised this model so that this low truck with excellent visibility is excellent for driving in cities. The Scania P is a true multi-purpose truck, which goes beyond just distribution. That's because it can easily be fitted with another superstructure.
Scania V8
The Scania V8 is one of the most popular trucks in the world. With good reason; the combination of power and unique sound make this true. The V8 isn't nicknamed 'king of the road' for nothing. When this engine was introduced in 1960, it was the strongest diesel in Europe. Over the years, the engine has undergone several developments due to strict environmental standards.