Information about Crane trucks
At basworld.com, you will find many crane truck combinations. So countless combinations are possible because an autocrane can be combined with different superstructures. Every crane truck is thoroughly inspected by our experts before being offered on basworld.com. Want to know all the ins and outs about our crane trucks? Then read on below.
Truck with Crane
You can find crane trailers of all kinds of brands at basworld.com. The new or used crane trucks in our stock are from the best-known brands, such as DAF, Mercedes, MAN, Volvo and Scania. It is important to note that the brand of loader crane differs from the manufacturer of the truck. It is also possible to combine cranes with various superstructures. In our stock, you will find combinations like a box truck with crane, flatbed truck with crane, recovery vehicles with crane and tippers with crane.
 
Different brands of cranes
Our stock includes trucks with cranes from the most well-known brands. To name a few: HIAB, Pallfinger 1L, HMF, PM, Effer and Fassi. These companies are known worldwide for producing high-quality cranes. In addition, the truck-mounted cranes are assembled by recognised builders. They have a keen eye for quality and safety.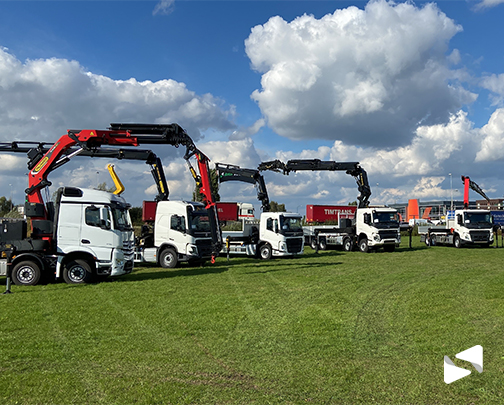 Using crane trucks
The possibilities of a crane truck are endless. Therefore, before buying a crane truck, look carefully at the specifications. In fact, there may be a difference in speed, reach, lifting capacity and other (hydraulic) attachments.
Lifting capacity of crane trucks
The lifting capacity of a crane truck is expressed in tons/meter. Which means, for example, that at 1 meter distance from the crane, the truck crane could lift 90 tons. In that case, you are talking about 90 ton/meter. In the lifting table on the crane truck or in the crane book, you can see what the crane can lift per metre of load. Small crane trucks with a capacity of 30-35 ton/meter often have two support legs. Larger crane trucks almost always have four. The largest and heaviest crane wagons from 100 ton/meter and higher often have front stabilisers for extra stabilisation. The front stabiliser is mounted on a front extension of the chassis so that the forces are properly distributed over the chassis. A front stabiliser also allows the truck-mounted crane to rotate 360 degrees and work in front of the truck.
Range of crane trucks
The reach of a crane is expressed by the number of extensions on a crane. For example, a crane truck with nine extensions has one of the widest reaches of any crane truck. With a FLY JIB, the crane can extend even further. A FLY JIB not only provides extra reach but also has an extra jib point. So you can get to hard-to-reach areas even better.
Additional options on a crane truck
Do you want to work with the crane remotely? That can be done with most crane trucks. You can use a remote control, which allows you to control the crane from a safe distance with a great overview. Many crane trucks are equipped with toolboxes to store crane parts. These parts can be, for example, hooks, outrigger plates or chains.
Winch on a crane
An extra option you can add to your truck-mounted crane is a winch. With the help of the winch, you can also hoist with the crane, making it optimally to use. Common winches are, for example, the 2.5T or 3.5T winch. Several cranes are also equipped with additional functions that allow the winch to automatically roll in or out while sliding the crane legs.