Track excavators are perhaps the most well-known type of construction machines. That is why BAS World also has these excavators in stock. The track excavators for sale with us have been inspected in advance by our experts. This way you are assured of a fair price and reliable purchase. Buying an excavator? And no idea what to look out for? Then read on below for more information.
 
Tracked excavator
At BAS World you will find the world's most popular brands of track excavators. Here you will find both new excavators and used/second-hand excavators. Read here which excavator brands these are: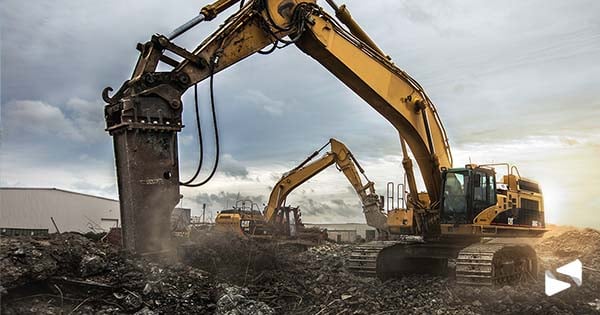 Track excavators for sale
Are you looking for a reliable and efficient track excavator for your construction or excavation work? At BAS World you will find an extensive range of track excavators of different makes and models. But what is a track excavator and what should you pay attention to when buying a track excavator? We describe that below.
What is a Track Excavator?
Track excavators are large and powerful excavators that have tracks. Basically, track excavators are most suitable for moving soil. With other attachments, the machines can be used for many other purposes. Think of demolition work, levelling, and forestry. The use of a new or second-hand track excavator depends on the project. For example, there are differences in tonnage, boom, hydraulic functions, cab, and undercarriage. Therefore, first consider carefully what you want to use a track excavator for.
Track excavator formats
Like any other vehicle or machine, excavators come in a variety of sizes. For (track) excavators, the model represents the weight of the machine. For example, a CAT 323 is a Caterpillar excavator with a weight of 23 tons. The different sizes and weights can be divided into the following categories: Mini excavators (weighing up to 10 tons), Midi excavators (between 10-20 tons), Normal excavators (between 20-36 tons) and large excavators (between 36-90 tons). tons).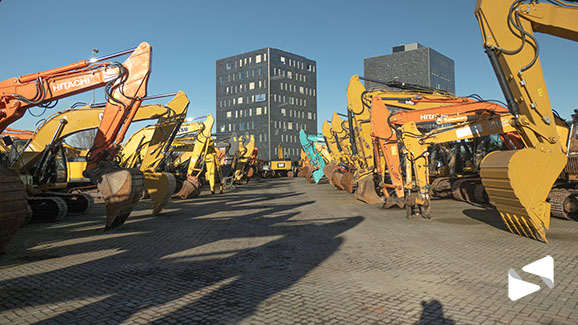 Cabin of a track excavator
The cab of a track excavator affects operator comfort and efficiency. In addition, some cabins are equipped for special activities. One of the most famous cabs for excavators are: tilting cabs, these cabs can simply tilt if the operator works up-high. This way the operator has a good overview of the construction site.
 
Undercarriage of a track excavator
In addition to the cab, hydraulic functions and the boom, a track excavator also has different undercarriage configurations. The choice of a particular type of under carriage configuration depends on the specific application and the conditions at the workplace. These factors are for example: terrain, soil, and manoeuvrability. There are four chassis configurations, namely:
• Long undercarriage (L): an excavator with a long undercarriage.
• Long narrow undercarriage (LN): an excavator with a long but narrow undercarriage. This configuration is ideal for hard surfaces and makes manoeuvring easier.
• Hydraulic gauge undercarriage (HVG): A hydraulic undercarriage can change the width of the tracks. Ideal if you work on different surfaces.
• Heavy duty heavy wide undercarriage (HDHW): This undercarriage is designed for heavy excavation and demolition work.
Upper carriage of a track excavator
An excavator has an undercarriage and upper carriage. With an upper carriage it is important to look at the sizes. Most upper carriages are large and protrude. This does not happen with a tail swing, also known as CR/CC. This upper carriage is made for narrow work in cities, for example. The upper carriage does not protrude and remains in the radius of the tracks.
Hydraulic functions of a track excavator
Like all other excavators, track excavators can be equipped with various hydraulic functions. A track excavator with hammer function (HP function) ensures that the excavator is able to break and remove stones, concrete or other hard materials. A hydraulic hammer can be connected to this and can therefore be useful for demolition work. A track excavator with hammer and rotation function (HP+MP function) can also pick up material in addition to demolition. By coupling a grab to the arm of the track excavator, a grab can rotate 360 degrees, for example. Finally, some track excavators have a quick-change function. This makes it easy to change attachments.
Boom of an excavator
The boom is an important part of a track excavator and comes in different shapes and sizes. The choice of a particular track excavator and boom depends on the application and conditions. There are four types of booms on an excavator, these are:
• Long reach (LRE): an excavator with an LR boom has a long reach. The boom is extra-long. This is used, for example, to dig a slope.
• Ultra-high demolition (UHD): an excavator with a demolition boom is used in demolition work. It often consists of a three-part boom which makes the excavator more powerful.
• Mass excavation (ME): an excavator with this boom is made for large volumes.
• Adjustable boom (VA BOOM): an excavator with such an adjustable boom is designed to work in tight workplaces and offers more flexibility.